Avril Lavigne R.O.C.K.S Sledge Hockey!
Avril Lavigne to play Sledge Hockey with Easter Seals Kids
Easter Seals Nova Scotia held a Sledge Hockey Demonstration for Avril Lavigne at the Dalhousie University Memorial Arena from 11:00am to 12:00pm on October the 20th.  There were some very excited kids when Avril got on the ice to visit, take pictures and sign autographs!
Easter Seals Nova Scotia was particularly excited for this celebrity visit as Avril is an Easter Seals ambassador. Avril, in addition to coming out and enjoying sledge hockey demonstrations has also made the dreams of a few Easter Seals Clients by giving them tickets to her show with the opportunity for them to meet the skater girl herself.
The Easter Seals Nova Scotia's Take PART (Physically Accessible Recreation Today) Sledge Hockey Activity provides an opportunity for physical literacy development in children with a physical disability.  Sledge participants learn to use their bodies to push themselves on their sleds using their upper body strength, how to get back up after falling on their side in the sledge, how to manoeuvre around pylons and other skills related to sledge to achieve success.  This results in improved knowledge of their body, body movements and their ability to perform the basic and more advanced movements of physical activity skills.
Easter Seals' Take PART Hockey Activity contributes to the wellness in our community by strengthening and supporting Healthy Child Development by providing and encouraging participation in fun activities that build strength, dexterity and problem-solving abilities by developing positive self-esteem and self-reliance by ensuring successful completion of activities for the children participating in the adapted physical activity.  This exercise improves the child's social, mental, emotional, and overall health and results in reduced risk of obesity.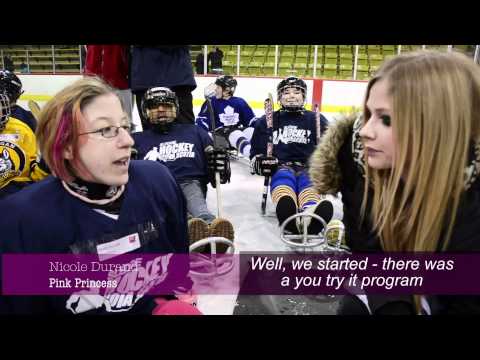 Check out these Photos!
Photo credits to Shannon Bower and Craig Braind for the fabulous Photos.
Share on Facebook